During the fall-winter Haute Couture week which took place from July 3-6, 2023 in Paris, the house of Boucheron unveiled the new high jewelry collection carte blanche 2023 "More is More". Make way for joy with high jewelry free and endowed with a touch of craziness.
Balls, cubes. Cheeky mixes, XXL smiles, life in Technicolor, memories come to the surface and mingle as the outlines of a new High Jewelry take shape that draws its influence and energy from Pop Art, the gentle rebellion of artists from the Memphis movement, the he illusion of perspectives that free themselves from the rules, transform the reality of a world that rewrites joy. A gigantic hair knot that defies the laws of gravity? Oversized necklaces that hug the entire bust? With new materials, the technical innovation of a studio dedicated to creativity, the search for the perfect shape, the most rigorous setting, everything is possible. Especially when it comes to glorifying enthusiasm, joy and then emotion. True jewels of technicality, experimentation, machining, coloring, assembly of materials, stones, volumes and colors, the exceptional pieces of "More is More" are an ode to audacity as much as in High Jewelry. Because by pushing back its borders with the greatest respect for its values, by questioning the precious, its requirements and its possibilities, these creations take us far. Where innocence welcomes beauty without constraints, where enchantment remains, where sophistication seems easy and the world resolutely exhilarating. Let's take a closer look at a few pieces from this collection that caught my eye.
TIE THE  KNOT
A gigantic bow in the hair: red on one side, black and white stripes – mimicking the "gros grain" code of Boucheron – on the other. Supple like cloth, light as a cartoon that would suddenly appear in real life. Set with diamonds and white gold, Tie the Knot magnifies High Jewelry by deploying its 29cm of pure poetry. Like a trompe l'oeil, floating mischievously on the side of the head, weighing only 94 grams: a prowess, that makes us forget its technical complexity. A fantasy comes true. The red part of the bow is made with bio acetate, a favorite of eyeglass manufacturers: it is weightless and offers this shade – as close as it gets to the color of an iconic soda. Bio acetate is made from wood paste and cotton fibers, mixing lightness and sustainability, thanks to producing methods respectful of the environment. An exclusive in the world of High Jewelry, magnesium as a metal completes this technical prowess, on the back of the piece. Magnesium is 30% as light as aluminum and its density is ten times as light as gold. This new material required our craftsmen's agility and for them to exceed their abilities.  The delicate strips of this fantasy bow were first shaped, then dyed black by a catachresis treatment, before being set. A challenge when applied to this material, on which it would be impossible to resolder a claw, should it break during the setting process.  The 200 parts necessary to the creation of this jewel were all carefully worked separately, then assembled, ensuring  the final piece's resilience as well as an aerial flexibility. The borders were dyed black, like a felt pen underlining the outlines of the reliefs to trick the eye.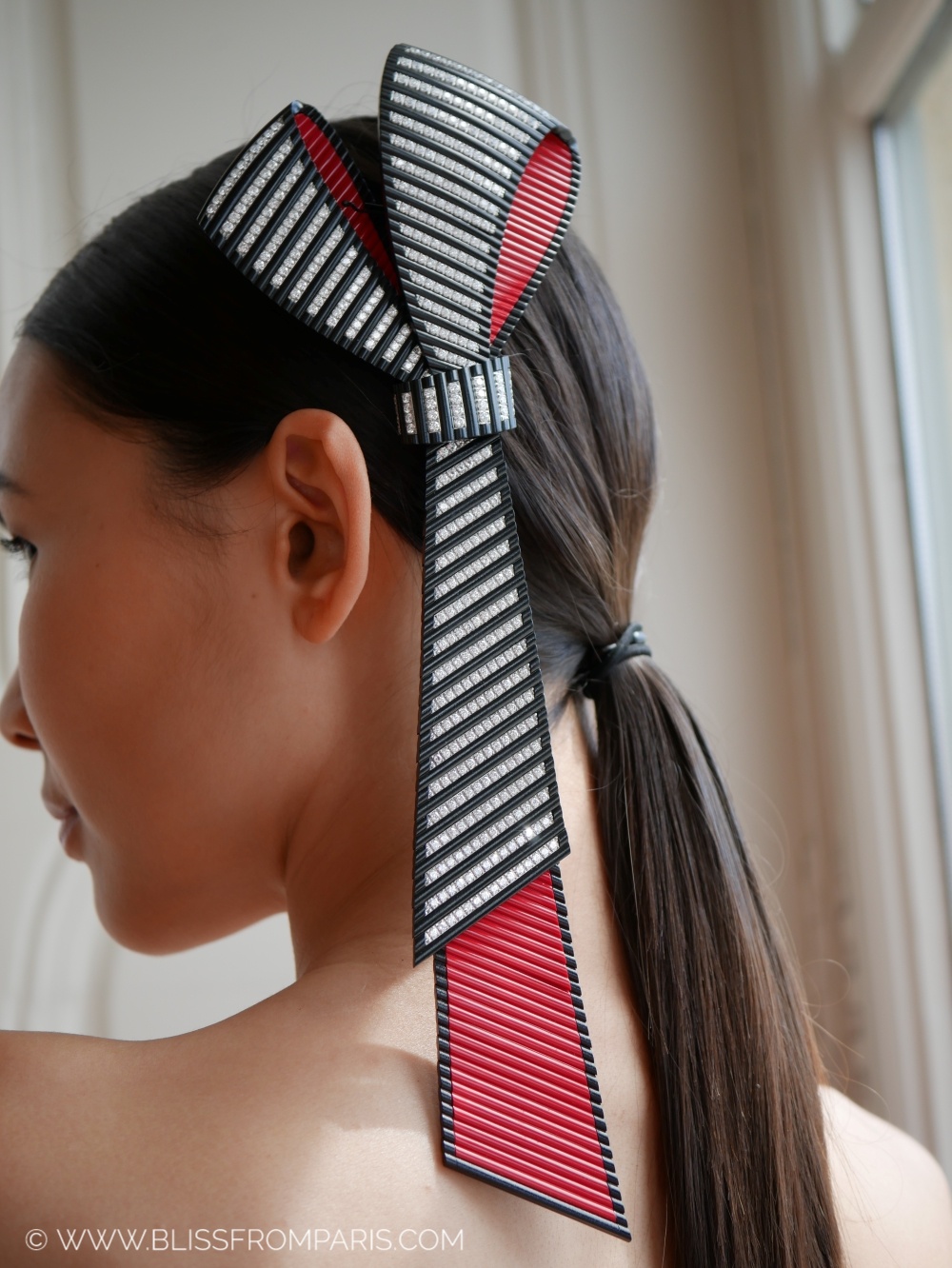 JUST AN ILLUSION
A prodigious linked necklace, covering the whole chest. Like  a comic book element overlaying reality. Imposing its quirky,  cartoonish esthetics through a light, flat High Jewelry piece: a true trompe-l'oeil. Orange and blue: these opposing colors share the same space on this oversized neo-necklace. It is extravagant and mischievous, stretching beauty like it stretches scales. The base of the piece, in titanium, makes this necklace much lighter than one would expect. The colors are made of blue, white, and black Hyceram: these colors were applied by laser, so as to rub out any separation between them, resulting in a "seamless" aspect. These huge chain links look convex, although they are flat, and are striped on their back. The orange chain links are paved with mandarin garnets,  set with round diamonds, and thinly lined by black lacquer. They overlook a row of what gives the illusion of baguette diamonds – shaped in rock crystal.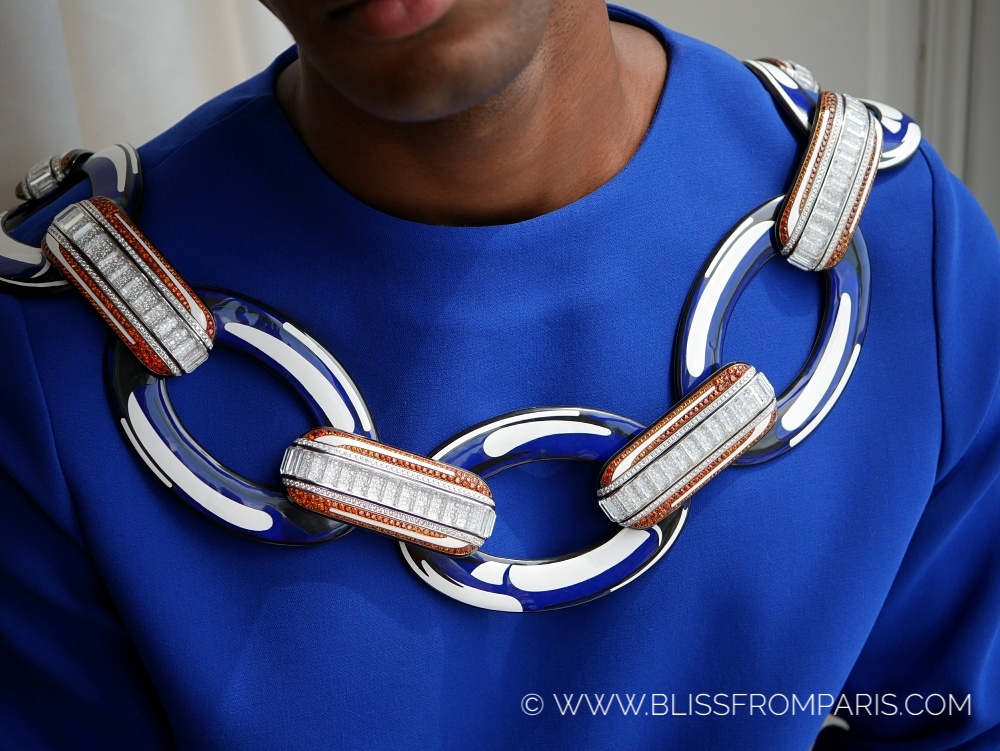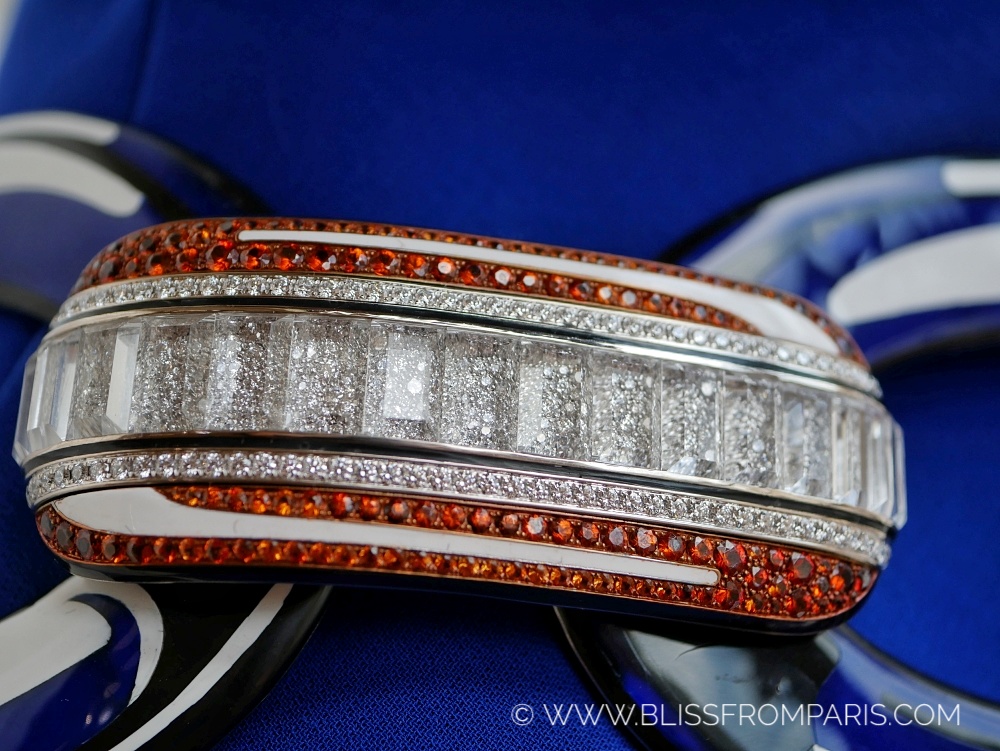 ONCE IN A BLUE MOON
The Question Mark  necklace, born in 1879, revolutionary by being clasp-free  and the symbol of a liberation. The Parfum ring, with its blue sapphire cabochon, embodying the dialogue between fragrance and High Jewelry.  Maison Boucheron is rich with the heritage that has made  its reputation and continues to write new chapters of its  icons' history. In this chapter, two of the most legendary Boucheron pieces prove how timeless they are, by blending technique and precious, joy and boldness. The stakes on this necklace were to recreate the volume of one particular Question Mark necklace from the Boucheron archives, which displays an emblematic flower. Here, a particularly rare 5.28 carat cushion tanzanite joins diamonds and white gold. Lacquer reproduces the original  flower motif in blue, black and white, giving the illusion of volume on this necklace – which, contrary to the original one from the archives, is completely flat.  The Parfum ring displays an incredible elongated tanzanite,  with a perfect rounded shape: this unique 33.15 carat cabochon overlooks a ring made of diamonds, rock crystal and white gold.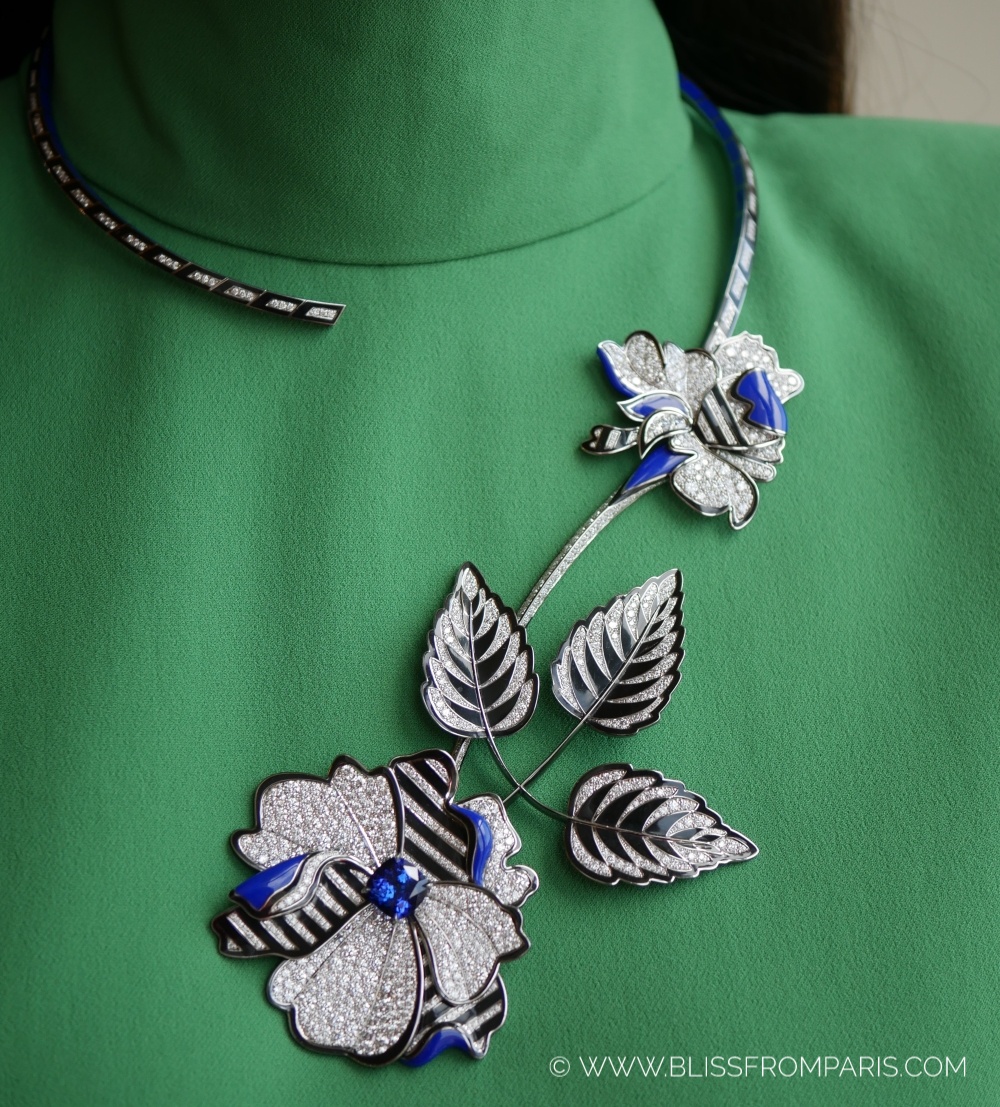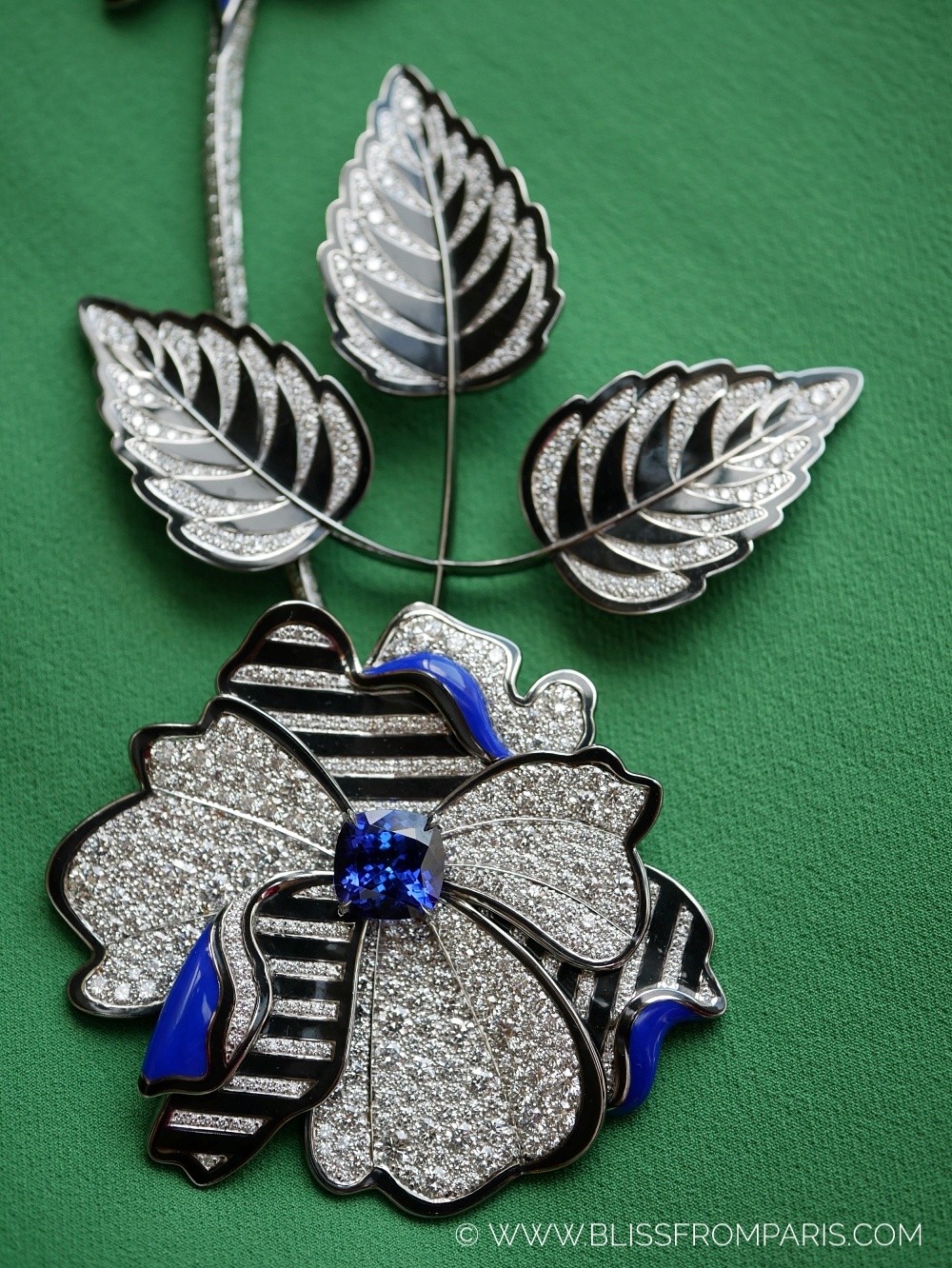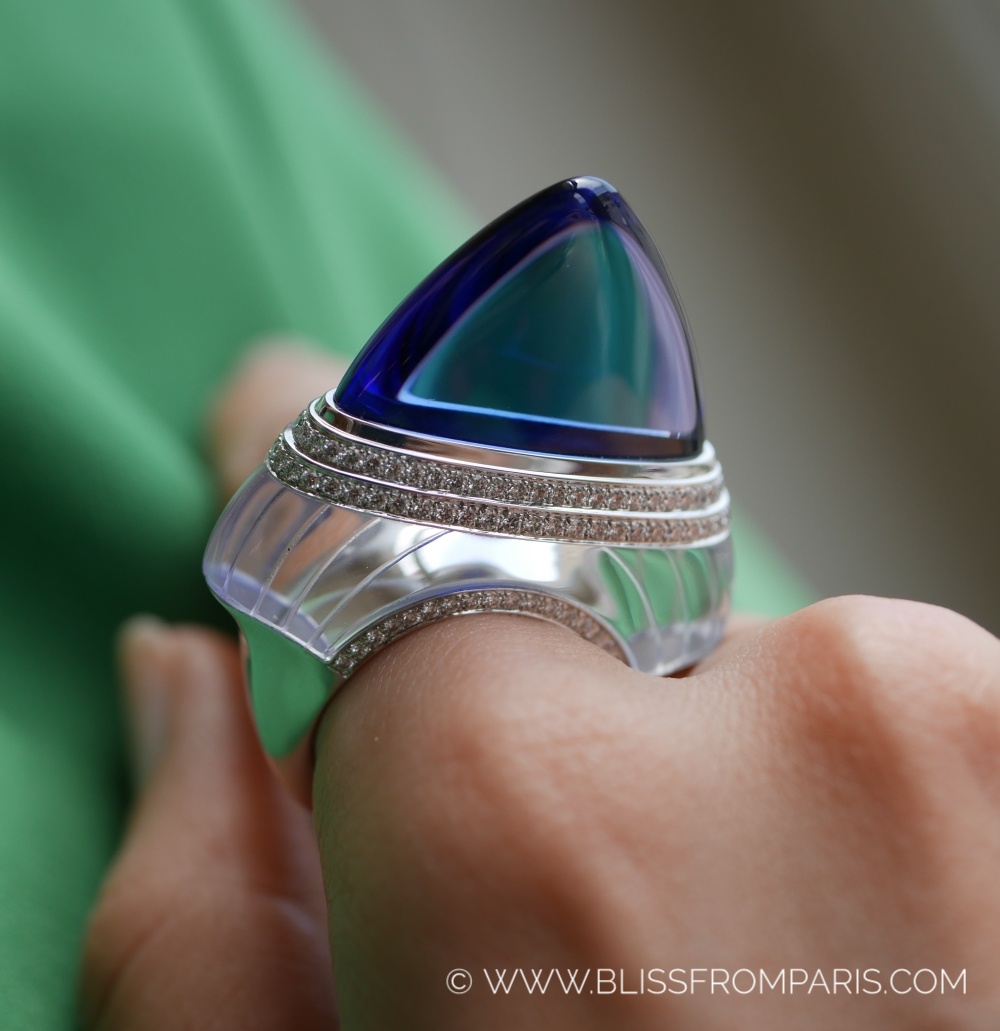 PUISSANCE QUATRE
XXL pop Quatre cuffs, shining with the iconic designs of the Maison: gros-grain, clou de Paris, diamond line and double-gadroon. Legacy and boldness blending on the wrists, in the most  obvious manner. The Maison's Quatre icon singing an ode  to joy, enhanced by technical performances from which only freedom is to be seen as a result. On the first row, aluminum replaces gold – being 8 times as light. The black and white gros-grain is hand lacquered, both on the outside and on the inside of the jewel. On the second row, 134 diamonds are set on aluminum: a prowess which required every piece to be made in triplicate – should any claw break during the setting process, the design would have needed to be started again from scratch. This is why setting stones on aluminum is a technique which is rarely used. On the third row, red, blue, and green lacquer replaces the Clou de Paris motif. Two of these cuffs display a last row made of a resin and aluminum double-gadroon motif. On the third cuff, this last row is made of aluminum and set with a total of 200 diamonds.