The Biennale des Antiquaires, renamed the "Biennale Paris" which took place from September 11 to 17, 2017, is still the most beautiful art fair in the world. This year the international collectors, Americans in the lead, have been back in Paris. With more than 32,000 visitors and two nocturnes, La Biennale Paris confirms its place as a major artistic and cultural meeting of the year. For this first annual edition, the diversity and quality of the 5,000 works and objects offered visitors a walk through more than five millennia of art history ranging from archeology to modern art.
High Jewelry
Among the houses of high jewelery, there are two who exhibited for the second consecutive time: Boghossian and Nirav Modi. Anna Hu, Glenn Spiro and Moussaieff Jewelers started at the Paris 2017 Biennale.
Again, Nirav Modi, Indian jeweler seduced me by the beauty of his creations. I will remember the extraordinary rings with emeralds of Afganistan or purple or blue sapphires. The frames that sublimate the gem to perfection without ever forgetting the diamonds that bring light.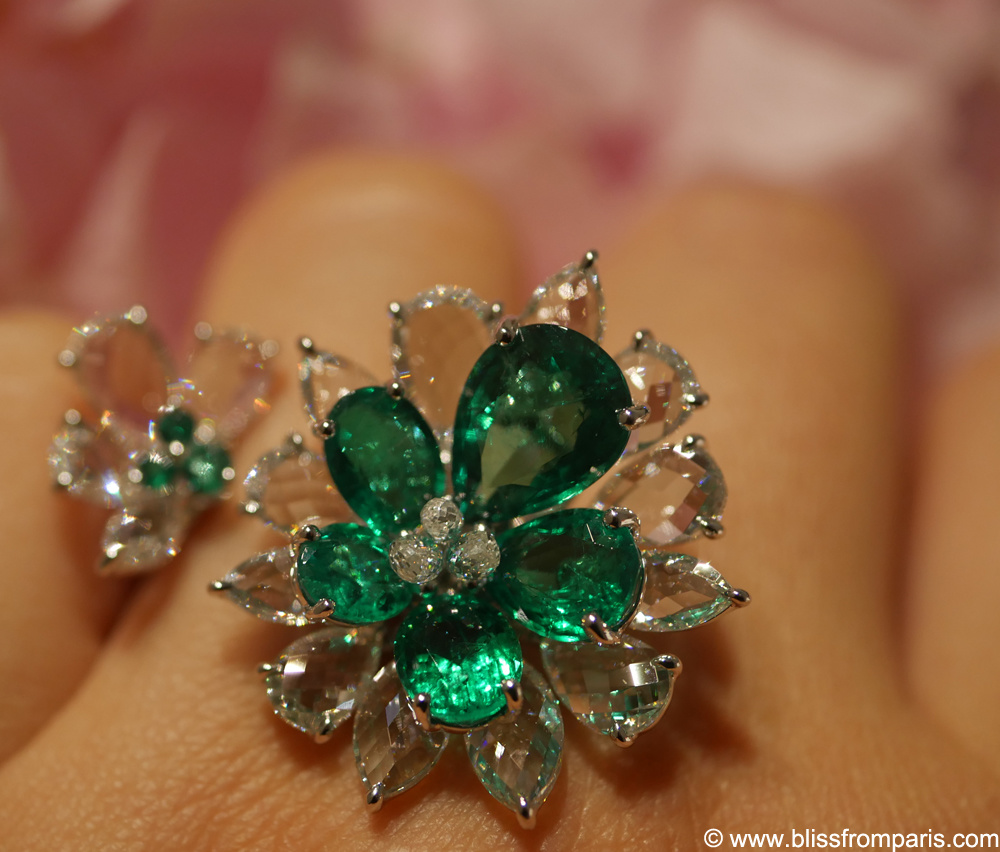 Nirav Modi, Bague "Twin Blossom" avec des émeraudes d'Afghanistan et de diamants © www.blissfromparis.com
The Boghossian House presented a remarkable collection of ancient pieces highlighting the ancestral know-how of the family. In the new collection" Les Merveilles", the metal is used very little in setting. The gemstones are set on all four sides to reflect the light beautifully.
A great discovery for me was the Moussaieff Jewelers. Beautiful creations with stones of exception are imagined by Alisa Moussaieff and made in France. This house which has almost two centuries adorns both the crowned heads and the private collectors. I retained beautiful brooches inspired by nature and a sublime necklace with sapphires in the shade of purple.
High watchmaking
The Swiss house DeWitt participated for the first time in this biennial edition. The great complications with the immediately recognizable design, produced by hand in small series have attracted particular attention.