On the weekend of Valentine's Day I went to Munich to attend the show Inhorgenta. For such a passionate jewelry and gems admirer that I am, it was just a dream. This year's 42nd edition was described by the organizers in only 3 words: "Individual, Inspiring, Innovate". In six halls, international exhibitors presented jewelry, watches, gemstones, accessories or machines and tools used in the industry. From innovation to inspiration, Inhorgenta brought together 940 exhibitors from 33 countries. For 4 days, 26,000 trade visitors from 75 countries came to the salon. The majority of visitors was of course domestic and from neighboring countries, but also there were numerous visitors from Italy, Spain and Great Britain. This show is one of largest in the world but especially in Europe and in the German-speaking countries.
The organizers took great efforts to increase the importance of this show, even though there is still some things to improve. I loved this artistic hub in the heart of Europe with artists from here and there. Some countries have a well organized approach in the presentation of their exhibitors; some were supported by their government or by professional organizations to boost the visibility and to attract the visitors more easily.British designers, as ever, presented in collaborative manner. I also found out that Polish designer had government support. I regret that the French designers who participated in the exhibition had no official support but I do not lose hope that one day it might change.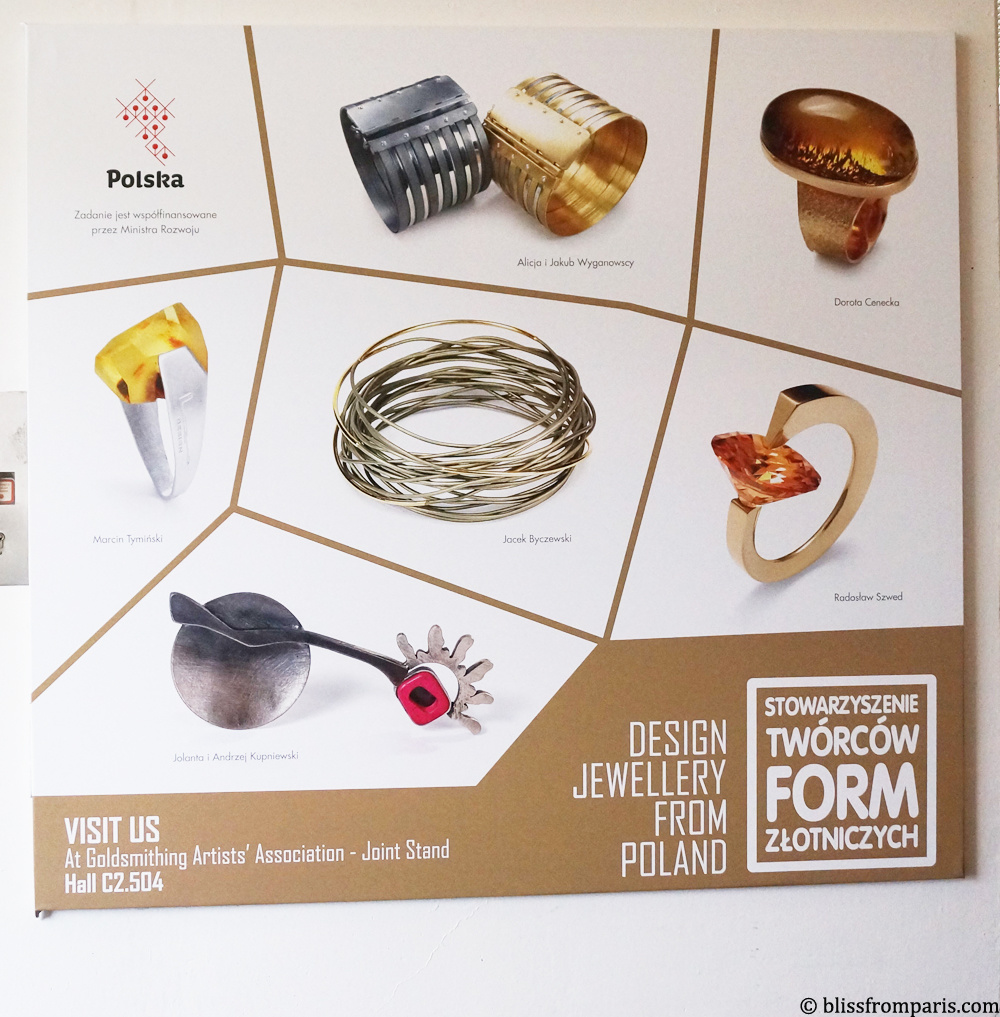 I observed the trends presented during the fair including some popular themes like nature, pearls and gold chains that were put on display. I also found the time to participate in two seminars given by bloggers from London. On Saturday Liza Urla, an owner of the blog Gemologue, proved that pearls are not old fashioned gems. On Sunday Beanie Major, an owner of the In Detail blog presented the social media strategies and the latest trends in the jewelry sector. I would like to say: Well done girls for your useful, exciting and necessary presentations and huge thanks to Inhorgenta team for taking this beautiful approach by collaborating with jewelry bloggers.
As my stay in Munich was fairly short, I probably missed a lot of interesting artists. Here are few of those who caught my attention and some of my precious crushes:
I finally had the pleasure of meeting a Polish artist Karolina Bik whose work I admire. Her organic creations with the aquatic inspirations that take us through the underwater world, are handmade with silver or gold. Karolina Bik presented her new collection "Tetris" inspired by the famous game of tiles, it can be seen in the rings I wear here.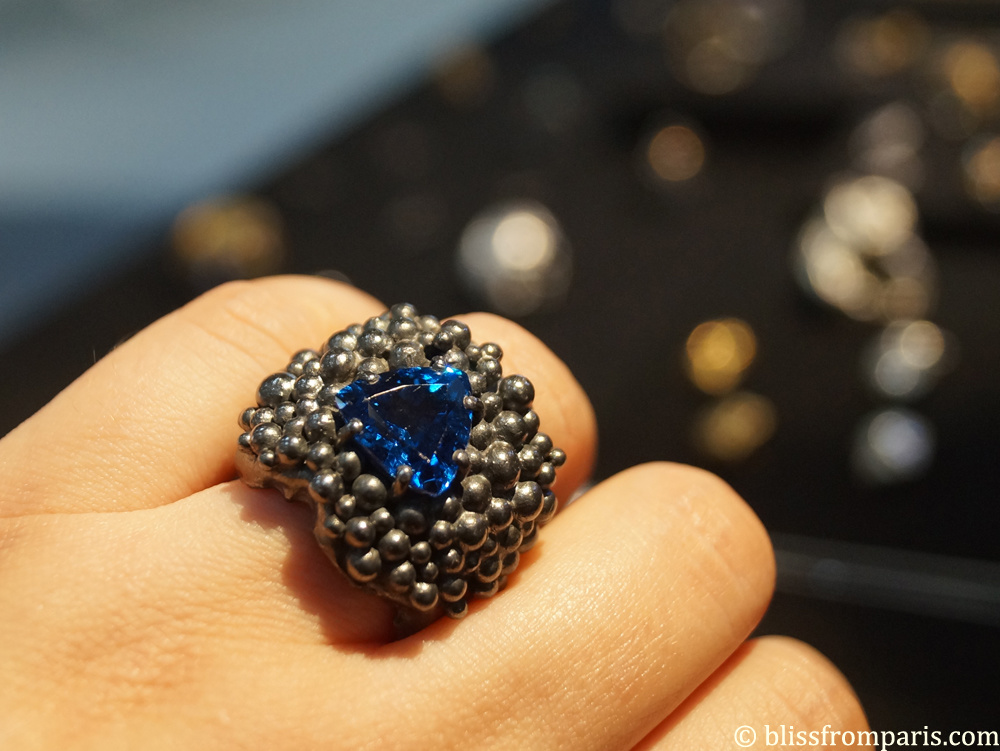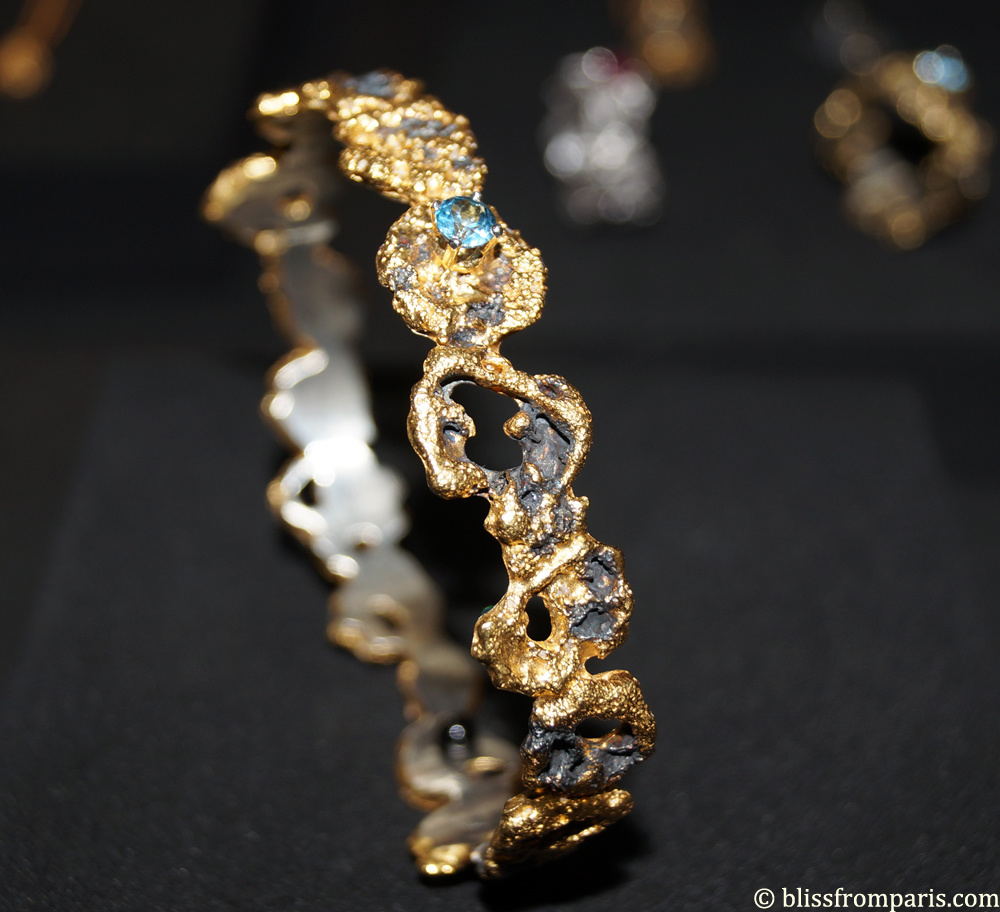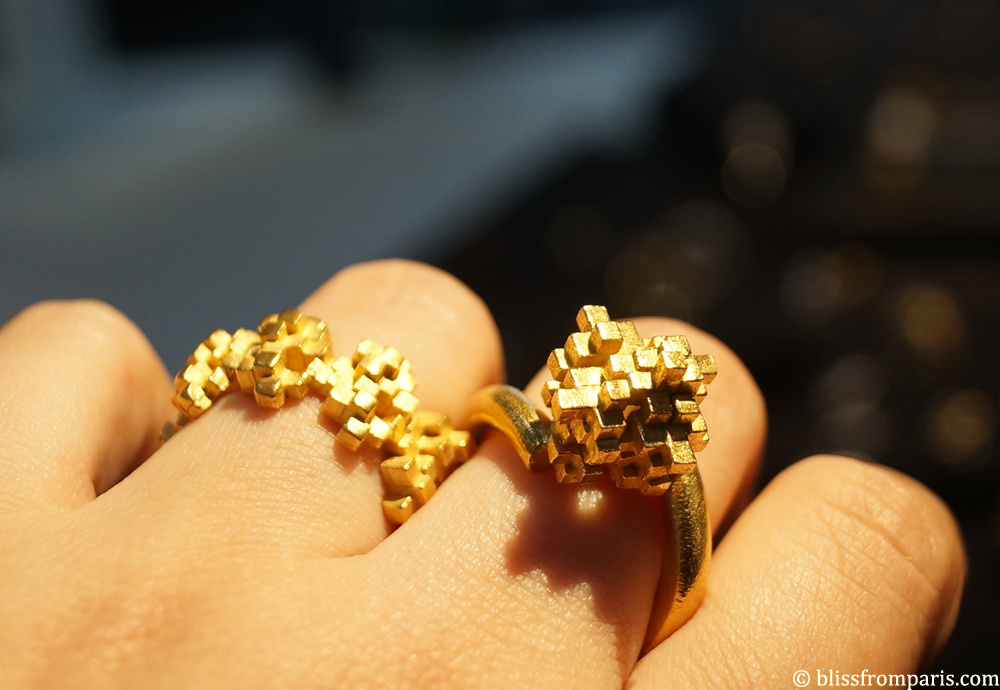 I discovered an atypical duo: father and daughter from Warsaw who created their own brand they called BY Jewellery. I liked the display of their jewelry with natural elements like wood or tree branches that reminded more their inspirations.The creations of By Jewelry team soften the metal a little bit by scattering a few colored stones onto it.
My eye was caught with a beautiful work in gold on these rings and to my surprise, this is a young designer who is behind theses creations. Leen Heyne is based in the Netherlands, where he worked on the gold giving it an impression of silk also adding occasional diamond. His jewelry with simple and curved lines, and very elegant look, presents a mixture of modernity and freshness.
As I love pearls, I could not miss the stand of Yoko London. This specialist of pearls presented pieces of elegant and timeless jewelry. In these magnificent creations, the pearl is often accompanied by a diamond or colored stone that increases its beauty. Here are some of the fine jewelry pieces I had a huge crush on.