During the last Watches &Wonders edition in Geneva, the most important watch players presented their new products for this year. At the crossroads of Watchmaking and High Jewelry, one of the hot trends spotted at a few important houses was a secret watch. This year the watch is not worn on the wrist but it transforms into a beautiful jewel on the neck. A stunning necklace, a secret watch or perhaps both? Let'slook closer at this new way of wearing timepieces in 2023.
The pendant watch is back to the game this year. Pendant watches have been around since the 16th century as precursors to the pocket watch. Originally designed for women to discretely check time, today watch pendants are more of a fashion statement than an elegant stealthy way of checking time.
In homage to Gabrielle Chanel's star sign, Leo the house has unveiled new pieces in the Mademoiselle Privé collection. One of them is Mademoiselle Privé Lion necklace with a button that conceals the watch dial. The black lacquer dial is set with 32 brilliant-cut diamonds. The 18K yellow gold button is adorned with a sculpted lion in 18K yellow gold set with 252 brilliant-cut diamonds, eyes set with onyx and black lacquered nose and ears. Facetted onyx case back set with 1 brilliant-cut diamond and 18K yellow gold necklace set with black facetted onyx, 18K yellow gold spheres and 51 brilliant-cut diamonds. It's a high precision quartz movement with the functions: hours and minutes and the medallion diameter of 35mm. This stunning watch-necklace is limited to 20 pieces.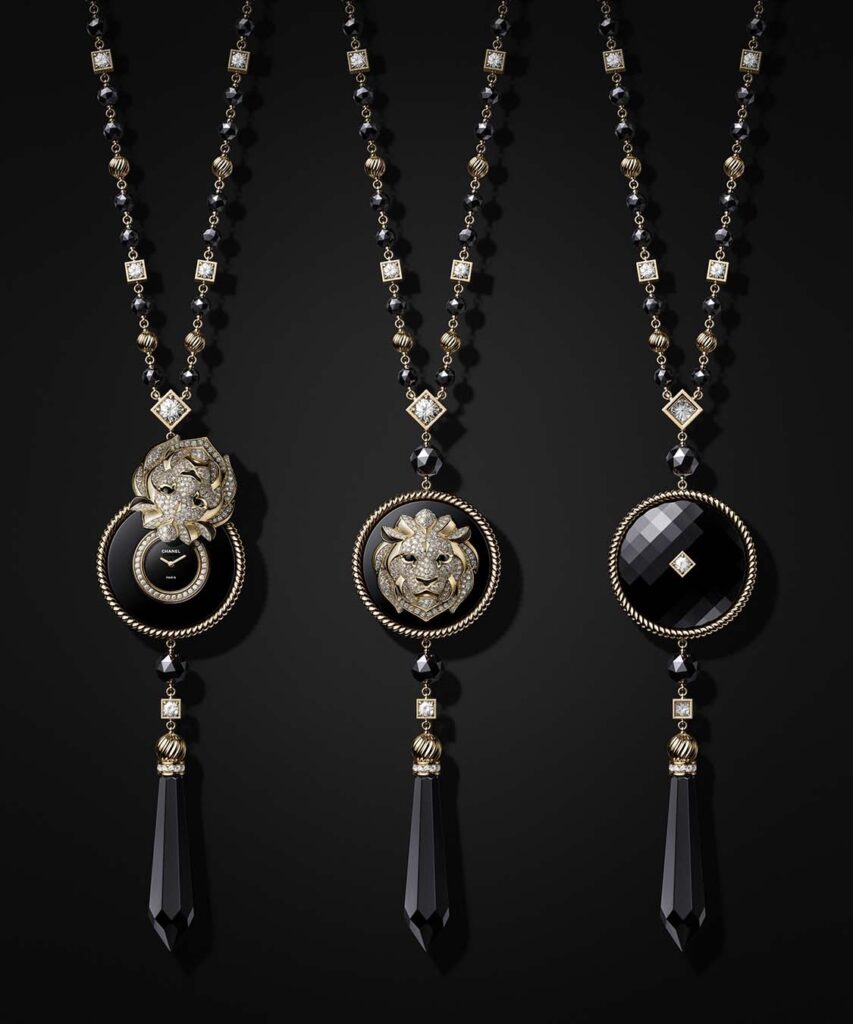 Van Cleef & Arpels continues to explore its creative universe with jewels that tell the time and watches who reveals a new facet of its poetic vision of time. This year the maison from Place Vendome introduced jewelry watches from the Perlée collection. The first secret watches appeared in the Van Cleef & Arpels collections from 1920's revealing the Maison's desire to offer a jeweled setting to the passing of the hours. Reinterpreting the aesthetics of the collection, the Perlée secret pendant watch combines jewelry know-how and watchmaking expertise to offer time an elegant setting. This creation takes the form of a long necklace with a rotating motif set with meticulously selected gems that reveal a hidden dial. Bold and contemporary secret watches with precious or ornamental stones and diamonds interact with gold, worked in delicate beads.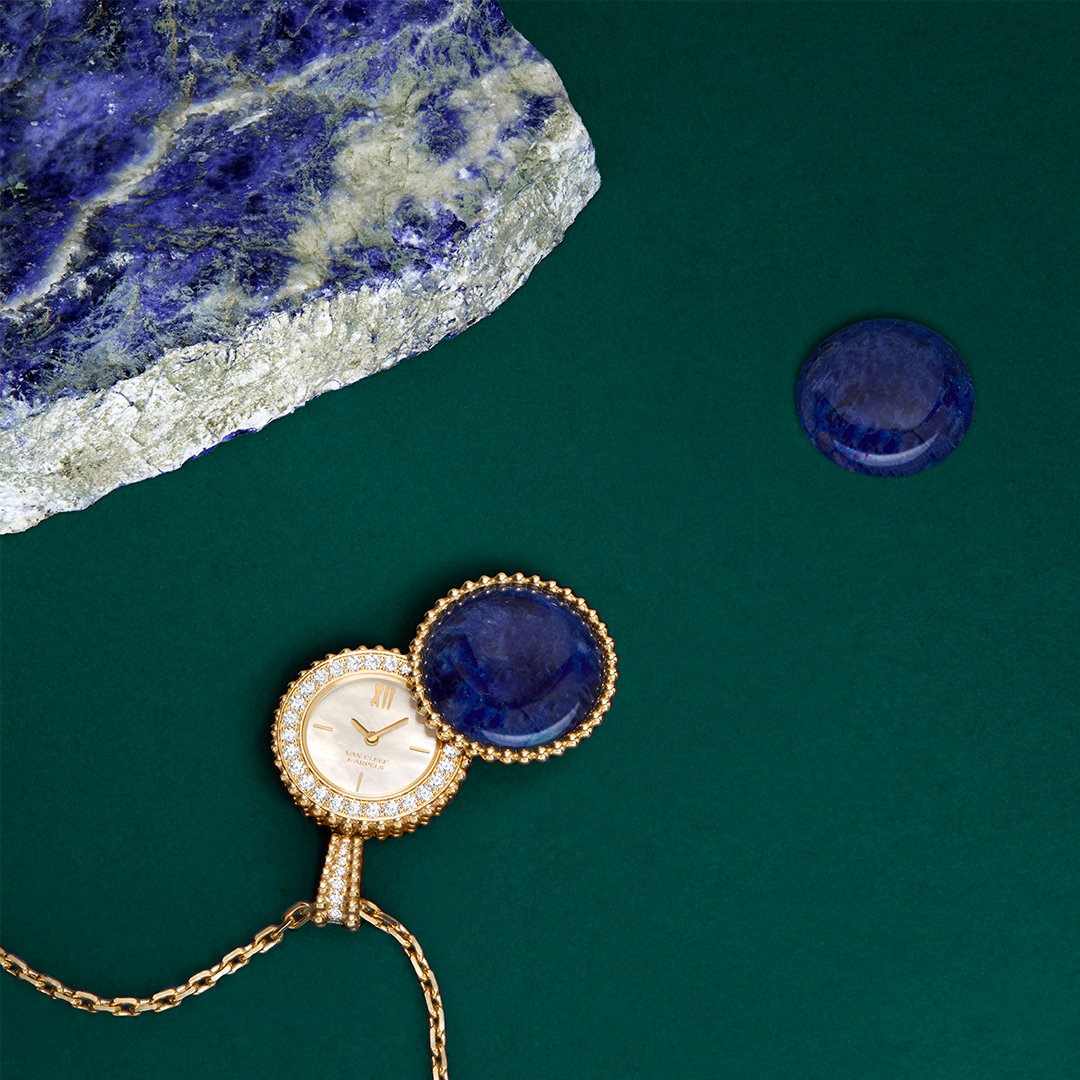 LeCoultre & Cie recognized very early the potential of timepieces that could also be worn as jewels and accessories and began creating watches for women as well as men. Underlining this commitment to feminine expressions of fine watchmaking, the Reverso began to appear in feminine form very soon after its launch in 1931. In 2023, Jaeger-LeCoultre takes this creative legacy to a new level, presenting a new interpretation of the Reverso in the form of a magnificent piece of High Jewellery – the Reverso Secret Necklace. The cordonnet, the original black textile bracelet, seen on Reverso models of the 1930s has been reimagined as a supple chain of intricate diamond-set links and polished onyx beads, from which a richly gem-set Reverso is suspended. Worn with the case back turned to the front, the Reverso Secret Necklace conceals its secret power of time-telling. Two pendants of polished onyx charms add a refined flourish to this elegant new way of wearing the watch. This exquisite creation represents a combination of high jewellery, rare craftsmanship and fine watchmaking with a touch of mystery and character.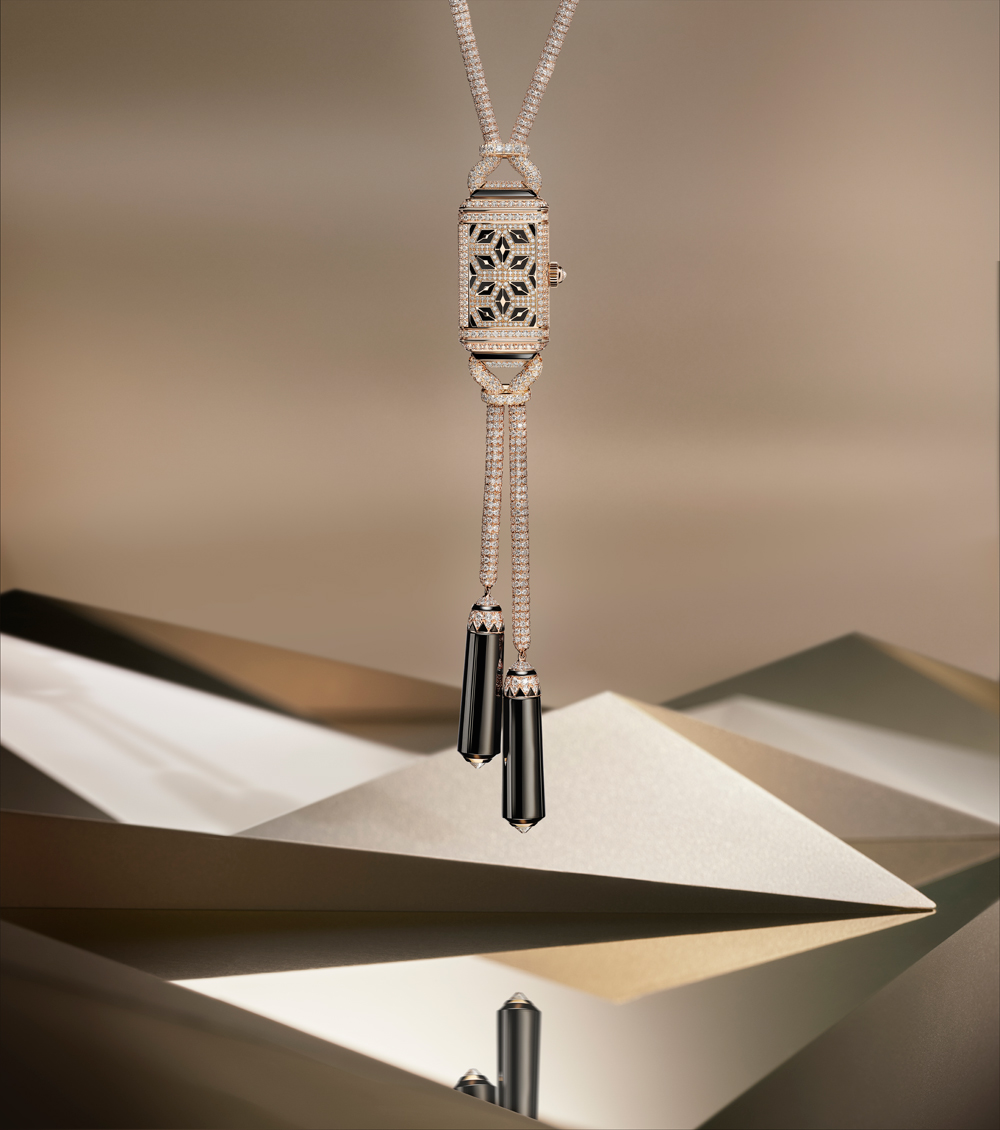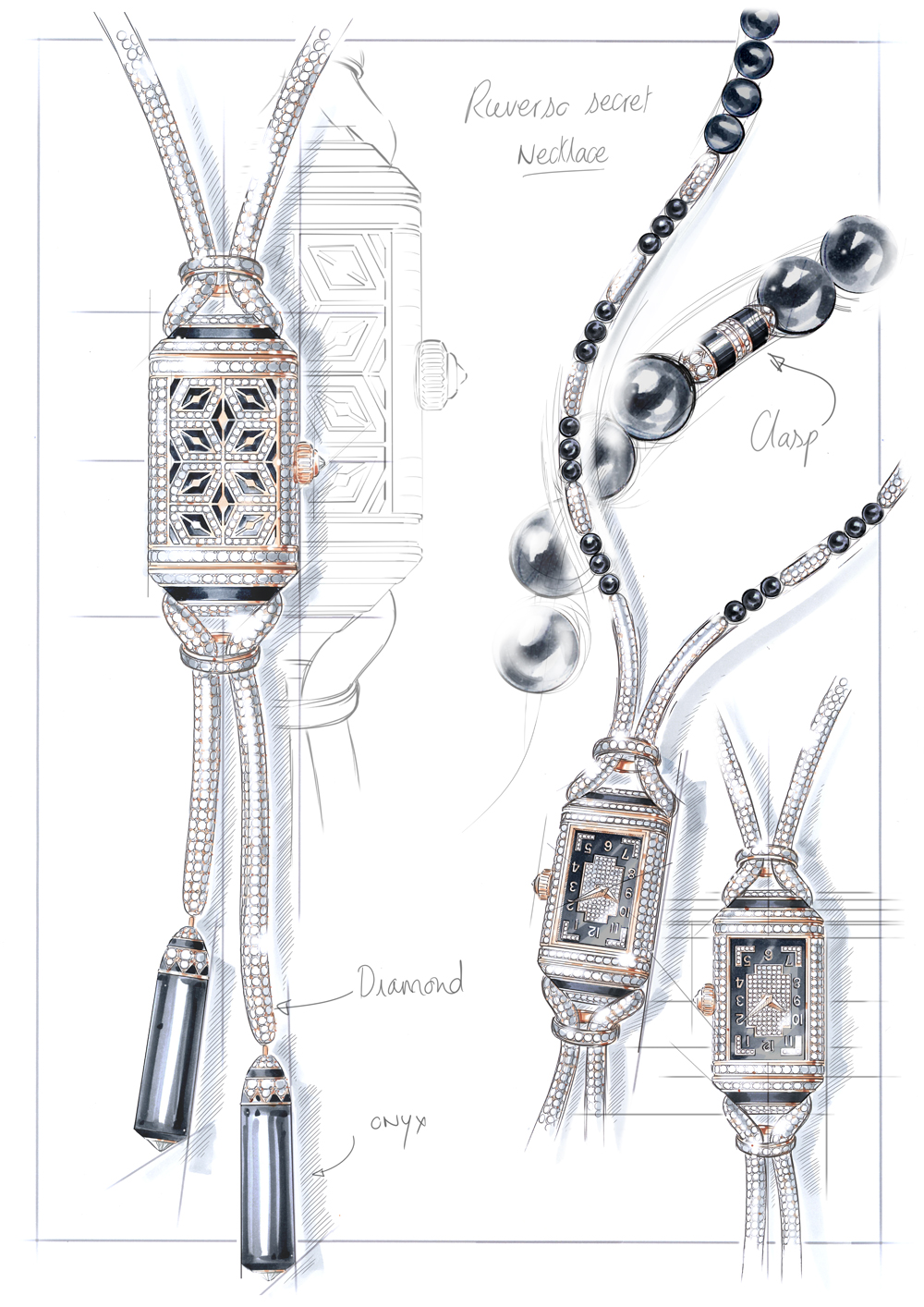 This year more than ever, Piaget returns to its roots, nodding to its most exuberant and evocative designs from the 1960-70's. A watchmaker who became a jeweler with the recognizable signature and use of ornamental stones, presented new timepieces that pulse with the Piaget spirit: bold, distinctive, original.
With Swinging Sautoir – Gold the Maison celebrates the noble art of the goldsmith. This pendant watch features a horizontal oval case, rimmed in diamonds within a gold rope work surround, the dial decorated with Palace Decor, suspended on an intricate, hand-made chain, draped through diamond circular links. The tassels of unequal lengths are composed of the same gold chain, accented with diamonds..
Swinging Sautoir – Emerald is centered on a spectacular and rare 25.38 carat oval cabochon Zambian emerald. The draped chain is entirely hand-made from immaculatelyformed twisted gold circular links. The oval case, vertically positioned to echo the cabochon emerald, is framed in a twisted gold wire, and rimmed in diamonds and emeralds. The malachite dial both pays homage to Piaget's 1960s ground-breaking creations and showcases the Maison's incredible skills. The sautoir is finished with a three-strand fringe, a silky cascade of diamonds, tipped with cabochon emeralds.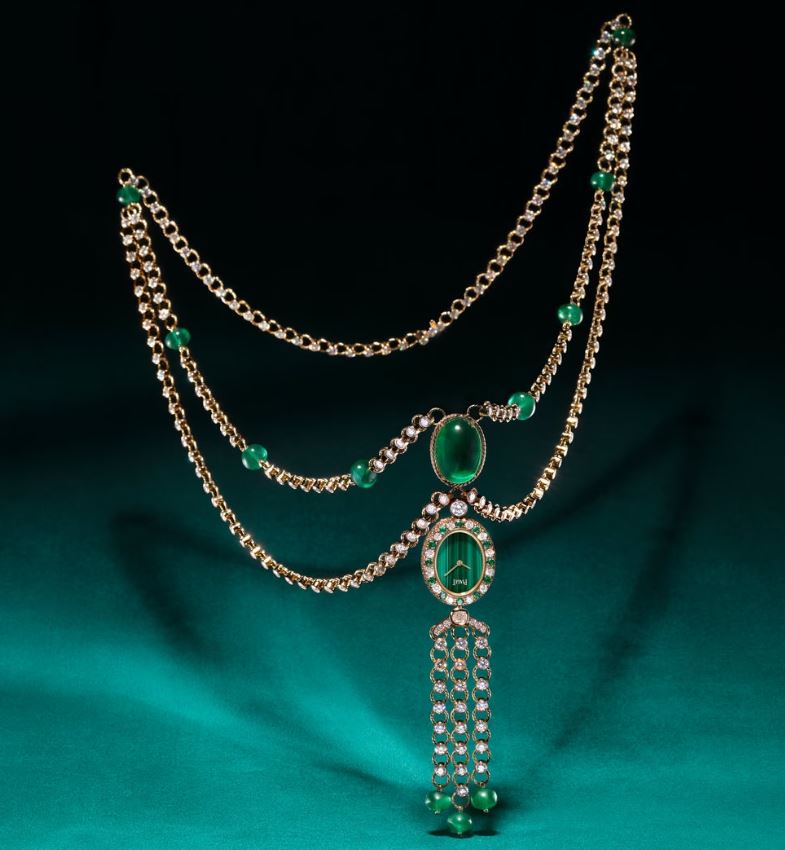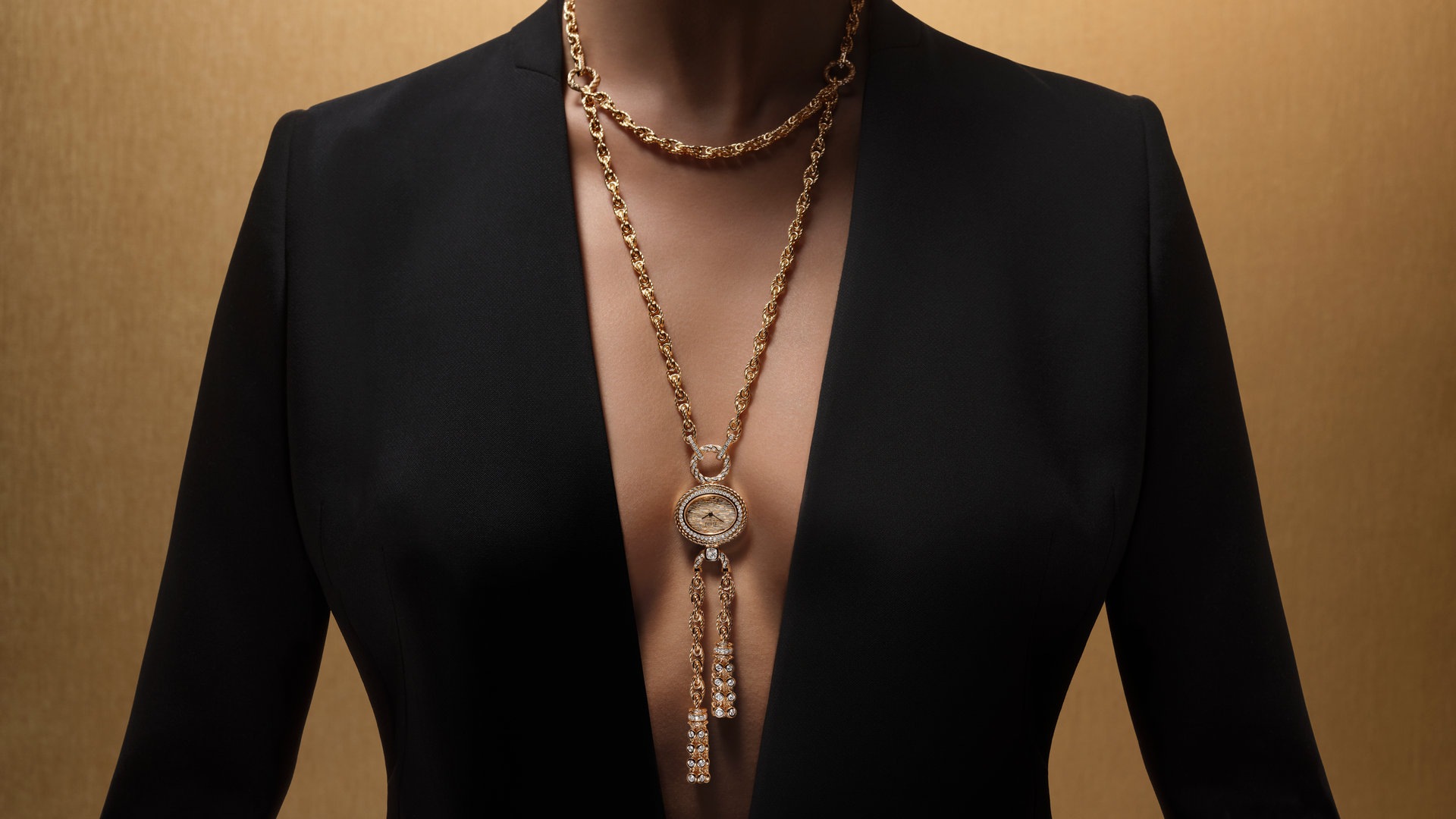 So are you adopting this trend and will wear a watch-necklace now?